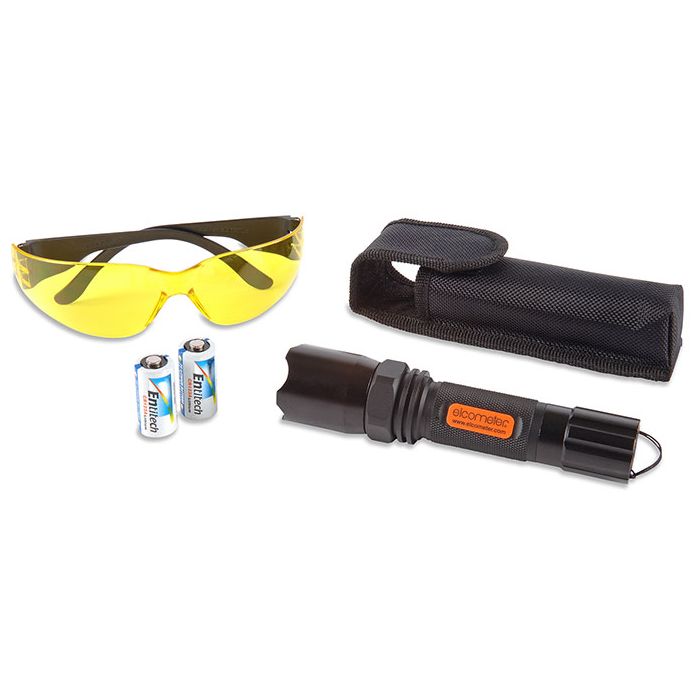 Elcometer 260 UV Pinhole Flashlight
Featuring a 3-Watt purple light emitting diode, the Elcometer 260 UV flashlight has a beam wavelength of 405nm (±5nm), which the human eye perceives as a purple light.
Designed with a specialised diffuser lens that emits a smooth beam image (with no streaks, hot spots or dark spots) and used with National Surface Treatment Centre approved safety glasses for improved contrast, the Elcometer 260 UV flashlight provides optimum integrity and reliability of the visual inspection.
Description
PRODUCT RANGE
TECHNICAL SPECIFICATION
DOCUMENTS & BROCHURES
Description
Elcometer 260 UV flashlight can detect pinholes from both the base and topcoats. A UV reflective additive is applied to the base coat. When inspecting the fluorescent base coat look for black spots or grey areas that indicate pinholes. When inspecting the non-fluorescent topcoat, look for glowing spots that indicate pinholes in the topcoat (shining through from the base coat).
Low cost and easy to use: Use UV reflecting base coat and shine the purple light onto the surface. Any fluorescence identifies pinholes
Rugged: Manufactured from aluminium alloy and O'ring sealed to protect it from moisture and dust
Portable and secure: Battery powered and features a recessed click-on/push off button to prevent accidental activation during transport or storage
Elcometer 260 UV Pinhole Flashlight
The Elcometer 260 UV Pinhole Flashlight is battery powered and housed in a rugged aluminium case providing a quick, low cost method of testing coatings for pinholes.
Part Number : D260—-2
Certification : No Certificate
| | |
| --- | --- |
| Part Number | Description |
| Elcometer 260 UV Pinhole Flashlight | D260—-2 |
| Lens Type | Dual element diffuser |
| Power Output | 3 Watt |
| Beam Wavelength | 405nm ±5nm |
| Flashlight Casing | Hard anodised aluminium |
| Battery Type | 2x CR123A batteries |
| Battery Life | 6 hours (continuous use) |
| Dimensions | 150 x 35mm (6 x 1.4") |
| Weight | 173g (6.1oz) |
| Packing List | Elcometer 260 UV Pinhole Flashlight, UV protective glasses, nylon belt holster, 2 x CR123A batteries, operating instructions |